MEET OUR CLERGY, STAFF, & BOARD
Rabbi Gelber gave a sermon on the 81st anniversary of Kristallnacht, and the 80th anniversary of the founding of Congregation Habonim. Read the sermon here.
Rabbi Lisa Gelber is thrilled to serve as spiritual leader of the Congregation Habonim Community. Born right here in New York City, Rabbi Gelber grew up in Westchester County and graduated from Amherst College with an AB in Religion, magna cum laude. Since receiving ordination from the Jewish Theological Seminary (JTS), she has served congregations in Mercer Island, Washington and Skokie, Illinois, as well as guiding, coaching and training rabbinical, cantorial and education students in her role as Associate Dean of the Rabbinical School at JTS.
Rabbi Gelber thrives on collaborative work and delights in helping seekers of all ages find their way into Jewish community and practice as they strive to discover, deepen and nurture their Jewish life and identity, individually and as part of sacred community. A relationship builder at heart, Rabbi Gelber loves to learn, sing, and pray with young and old.
Co-editor of A Journey Towards Freedom: a Haggadah for survivors of domestic violence, Rabbi Gelber has lectured nationwide about domestic violence in the Jewish Community, and served on the Board of FaithTrust Institute (formerly Center for the Prevention of Sexual and Domestic Violence). A long distance runner, long time fundraiser for the Leukemia and Lymphoma Society through their Team in Training program, and trained spiritual director with certification from the Yedidya Center, Rabbi Gelber uses running as spiritual practice and believes in the power of contemplative practice to strengthen community and family relationships.
Parent to an elementary school aged daughter, Rabbi Gelber's journey to parenthood is featured in the Emmy nominated documentary ALL OF THE ABOVE: Single, Clergy, Mother.
Contact Rabbi Gelber to talk about all aspects of Jewish life and living, and to learn how to connect with others in our sacred community.
To schedule time with Rabbi Gelber, contact rabbigelber@habonim.net.
Cantor Bruce Halev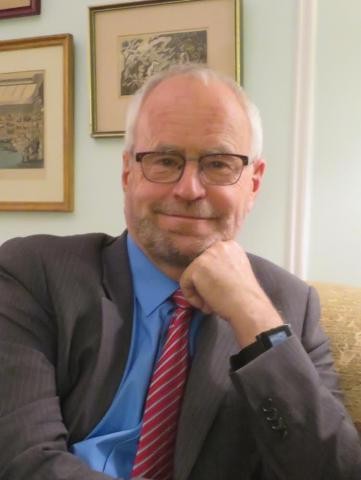 Cantor Halev has served as the Cantor of Congregation Habonim since 1983. A graduate of the School of Sacred Music of the Union of American Hebrew Congregations (UAHC), he also holds MA degrees in Near Eastern Studies and in Jewish Education from New York University, as well as an MSW from Yeshiva University. In 2011 he received a Doctorate of Music, Honoris Causa, from Hebrew Union College-Jewish Institute of Religion for 25 years of service to his synagogue and to the Jewish community.
With an ongoing interest in themes of Jewish spirituality, Cantor Halev completed a two-year program in Spiritual Direction through Lev Shomeah, an organization of Jewish Spiritual Directors. He also has a strong personal interest in Jewish Mysticism and has taught numerous courses on this subject at Congregation Habonim, The Open Center, and at other venues.
Cantor Halev began his professional life in the opera and theater worlds in Europe and Israel before deciding to pursue a career in the cantorate. He is a graduate of the London Opera Center, and also studied in Italy with Tito Gobbi, the great Italian baritone. He sings in four languages and his two favorite operatic roles are Don Giovanni and Rigoletto.
One of Cantor Halev's greatest pleasures is making music with the rabbi and synagogue staff, together with our Nursery School students, at our weekly Rock Shabbat and Tot Shabbat services. He believes that there is nothing more vital to Jewish worship than music; it is at the very heart of spirituality -- bringing joy, personal insight and a unique sense of community to all participants while connecting us deeply to our Jewish roots.
Cantor Halev lives on the Upper West Side with his wife, Joanie. He is the proud father of two daughters, Becca Thandi and Talia Michal, both of whom also live in New York City.
Contact Cantor Halev here.
Rina Cohen Schwarz, Education Director
Rina Cohen Schwarz holds an M.A. in Jewish Education from the Jewish Theological Seminary. She has been working in the field of Jewish Education for more than 20 years, primarily as Education Director in synagogue schools but also as a mancha (mentor) to graduate students teaching in the field. Rina and her husband, Dan, have three children, two of whom are students in our Religious School, while third is currently a High School student. Rina is delighted to be bringing her love and joy of Jewish education to the children and families of Habonim.
Tina Lobel, Nursery School Director
Tina Lobel is the Nursery School Director at Habonim. She has more than 20 years of experience in Early Childhood Education. Prior to coming to Habonim, Tina was an Early Childhood Coordinator and Learning Specialist at Leman Manhattan Preparatory School. Tina has a Bachelor's Degree in Early Childhood Education and a Master's Degree in Special Education. In addition to her overall direction of the Nursery School, Tina plans to focus her attention on meeting new families as they explore the admissions process. She also plans to support families as they go through the exmissions process when it is time for them to leave Habonim to attend ongoing schools. Tina has been working with children and families throughout her life. She hopes that each child will develop a true love of learning and become an active participant in our warm, nurturing and welcoming Jewish community.
Ann Obsatz, Associate Nursery School Director
Ann Obsatz is the Associate Director at Habonim Nursery School. She has been with us since September 2012. Prior to joining the Habonim community, Ann was the Associate Director of the Nursery School and Parenting Center at Central Synagogue. As Parenting Center Coordinator, Ann developed programs for infants and toddlers as well as a caregiver program. Ann is a communication skills specialist. She was co-founder and co-director of the Communication Network which provided workshops for parents, teachers and caregivers. Ann was a reading enrichment teacher for the NYC Board of Education as well as an early childhood teacher at the 92nd Street Y Nursery School in Manhattan. At Habonim, Ann continues to work with children, teachers and families to create a warm, caring environment where learners of all ages can thrive and grow.
Congregation Habonim Board of Directors
A Message from the President
Welcome to Congregation Habonim! We are an egalitarian, Conservative synagogue located at 103 West End Avenue at the corner of 64th Street. Our members come to us from a wide range of Jewish traditions and our mission is to provide a welcoming, enlightening home to all within our warm and caring community. Habonim means "the builders." Our name is especially appropriate at this time, as we are in the process of planning for our beautiful new home on 65th Street near Central Park West, close to the location of the original synagogue built by our founders more than 60 years ago. But at Habonim, the builders means much more than a physical space. We build deep connections to Judaism for members of all ages, from our thriving Nursery school, to our comprehensive Religious School, to our exceptional family and adult services and programming. We build engaged and active members through meaningful volunteer opportunities and pathways to leadership. And we build strong relationships among our congregants, who regularly learn together, share a simcha, check in on a sick friend, and comfort those facing challenges. Please spend some time on our website to learn more about us. We also welcome you to come join our services Friday evenings or Saturday mornings for a "test drive" and to stay for our weekly Kiddush lunch. It's a perfect opportunity to get know us and experience what makes our community special. If you have any questions, or if there is anything you would like to discuss, please contact me at president@habonim.net.
L'Shalom,
Richard Verner
Officers

Richard Verner, President

Mindy Abramson, Vice President

Debra Karlstein, Vice President

Abigail Schlaff, Vice President

Marc Mehl, Secretary

Alison Fried, Treasurer
Trustees
Jessica Boar
Beth Bornstein
Janet Cord
Deena Ecker
Jessica Floman
Jon Forstadt
Amy Foster
Nita Gottesman
Susan Grant
Michael Massen
Jeffrey Moelis
Tony Robins
Deborah Winokur
Elaine Witkoff
Sun, January 26 2020 29 Tevet 5780